" World Class Career for World Class Graduates! "
Internship offers undergraduate and graduate students a hands-on training opportunity to work in their desired field (their major) for up to 12 months. They learn how their course of study applies to the real world and build a valuable experience that makes them stronger candidates for jobs. An internship can be an excellent way to "try out" a certain job, that's valuable insight that will help you choose your career path. Participants work through a structured internship plan designed to capitalize on their academic strengths while introducing American business methods to catch the opportunity to increase their knowledge in their field of specialization.
What is the program all about?
It is an opportunity to live in the US. while participating in work. based training program with guaranteed paid placement that allows the participants to learn the latest in American business trends and culture, so they can gain knowledge from the best in their area of studies.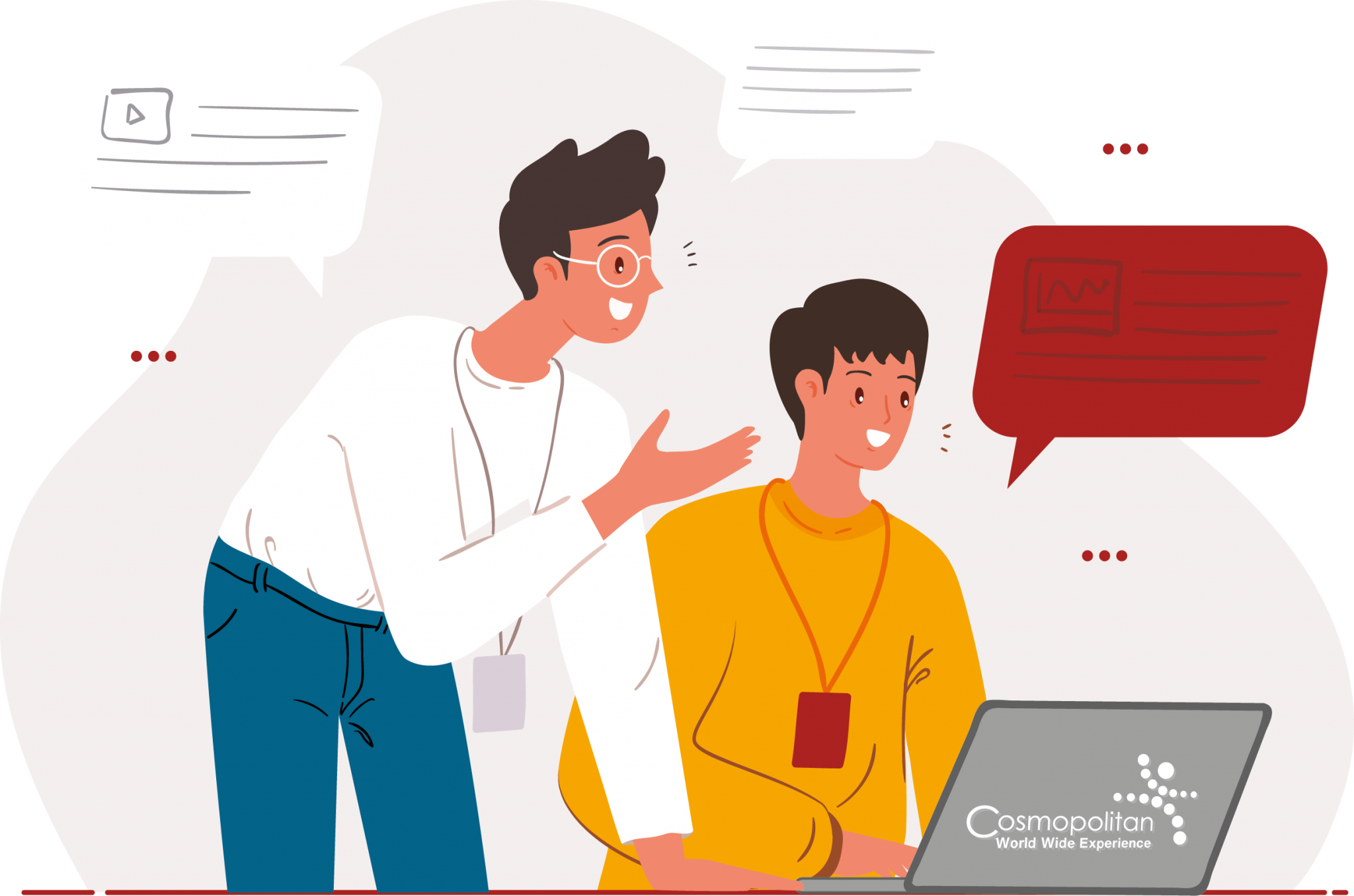 What does the Internship program include?
Guaranteed Placement.
DS-2019 (Work Permit).
SEVIS.
Health insurance.
Guidance throughout program tenor.
Preparation for J-1 Visa.
24/7-hour emergency support.
Tax refund assistant.
You are eligible if you are:
Your Age 18 – 32 years old
Currently or fresh graduated from Public / Privet University.
Graduated (No more than 12 months ago).
You have excellent English language skills and good understanding.
You have sufficient finances to support yourself during your entire stay in the U.S.
Must commit to leaving the U.S. within thirty (30) days following the last day of the J1 program.
Your education field must be in
Cosmopolitan internship graduated undergraduate
-Determine your appointment for English evaluation with us then, submit your application & required documents.
15%
-After we confirm your eligibility for applying to the program, we will send you the program Documents.
35%
-Now we are matching your application with the suitable job offer (the application processing takes 6-8 weeks).
65%
-Sign you job offer and we will move forward with requesting your DS 2019.
80%
-Preparing your J-1 VISA application and orientations now, you will be able to attend the U.S embassy interview.
90%
-Book your flight as soon as you have J-1 visa then your journey will start.
100%
Cosmopolitan internship graduated undergraduate
Cosmopolitan internship graduated undergraduate
THAT'S IT.. ?! NOPE NOT YET.
Cosmopolitan looks forward to help you in putting the first stone on your future career base and ensure that your proposed internship program satisfies both you and your host organization's expectations of success.
Cosmopolitan internship graduated undergraduate
When ever you find it hard,
Cosmopolitan make it easy.